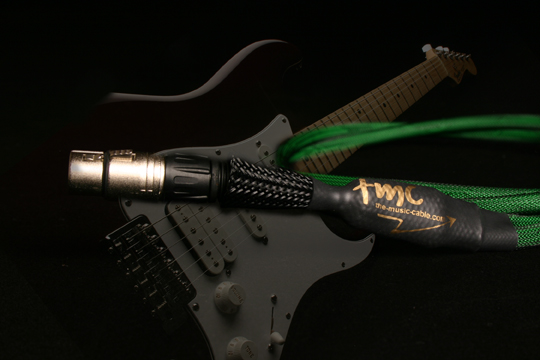 A truly external bi-wire balanced design.

Our Truly Balanced XLR/XLR interconnects, use one entirely shielded cable, our White Label, to carry the "audio hot" signal;
and another entirely shielded White Label, to carry the "audio cold" signal, as in a Truly External Bi Wire design.
This way, the two signals will never mingle with each other, to bring out the best of any XLR/XLR balanced connections.
Please read the fine print before scrolling down to place an order :-)
(with 30% discount)
Our name says it all: TMC = the-music-cable = truly musical cables

these are wonderfully effortless and superbly neutral and natural cables;
with full bodied real soundstage of great depth and extension and dead quiet background.
music is with feelings and liveliness, and excellent separation of instruments, and ambience.
very lively and engaging... no fatigue after listening to everything under the sun for hours!!

Be warned: the use of our cables to listen to music can be addictive.

And if you do not have the time, please do not switch these cables on
as you will be late for your next appointment!!
These cables are designed to carry signal
and to preserve musical integrity.

By design, we offer one of the best (if not the best) Hi Fi cable system for modern day use.

Please do not hesitate to contact us should you have further questions, or further requirements.
Specifications:

DC R

esistance

Center conductor
Outer conductor
3.00 ohms/1000 ft (9.80 ohms/1000 meters)
2.00 ohms/1000 ft (6.50 ohms/1000 meters)
Capacitance

24.20 pF/ft (79.40 pF/meter)

Inductance

0.061 ÁH/ft (0.200 ÁH/meter)

Velocity

84%

Recommended Retail Price: US$533/meter pair

Factory Direct Price: US$320.00 per meter pair


7th Anniversary Sales
Buy Now With 30% Discount:

(@US$213 Per Meter Pair)




Shipping and handling charges:

1) Flat rate S&H of US$15 per International order (shipment outside of Australia).


Orders of US$420 and over will be sent by EMS, Australian Express Post; which takes 3-5 working days to reach most cities from here (With tracking number).

Orders of less than US$420 will be sent by Australian Insured Air Mail; which takes 7-10 working days to reach most cities from here. This service offers no tracking number; but a signature is needed for delivery.


OR:
2) Flat rate S&H of US$5 per local order (shipment within Australia).
(For shipments within Australia, we will send a separate PayPal Invoice for 10% GST)


Please make sure that there is only one S&H in your shopping cart.
(If you made a mistake, please don't worry, as we will promptly refund to you the extra S&H before shipment.)





*






*

S&H US$15 per International shipment
S&H US$5 per Local shipment within Australia

x 0.5 meter pair

(ONLY US$

160

)

x 1.0 meter pair (ONLY US$

213

)

x 1.5 meter pair

(ONLY US$319)

x 2.0 meter pair (ONLY US$

426

)

x 2.5 meter pair

(ONLY US$532)

x 3.0 meter pair

(ONLY

US$639

)

x 3.5 meter pair (ONLY US$745)